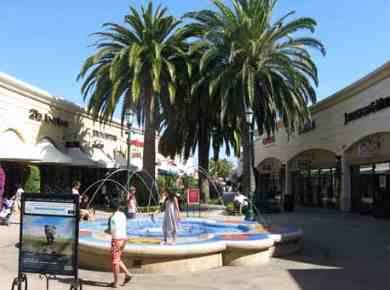 Photo from www.san-diego-beaches-and-adventures.com
Shopping in San Diego is a great treat. There are beautiful outdoor malls with immaculate flower beds and fun music. People are happy and it seems as if they don't have a care in the world. Fashion Valley is a beautiful mall, although very popular. If you're a people watcher, this is the place for you. I lived within walking distance to University Town Center in La Jolla, which was awesome. I was pregnant at the time, so that was a bit of a bummer for my shopping habit but a huge bonus for our budget. I loved walking around and the feeling the malls had.
I didn't do a ton of fabric shopping while in San Diego but one place I did go was
Beverly's
Fabric Store This isn't a massive fabric and craft store but I feel like their fabric selection is superb. It has many modern designers, so it is a great place to visit and find new things you love.
I am going to make it a point to seek out cool or unique vintage, thrift or consignment stores every time I go on vacation. Next time I go to San Diego I want to check out
Flashbacks
. I don't know if they're any good, but it looks like a fun experience.
Photo from Kobey's
Kobey's Swap Meet
looks like something worth checking out as well. It was voted San Diego's #1 swap meet (for what that's worth). Every Friday, Saturday and Sunday they open the doors to the San Diego Sports Arena. For $1.00 you can get in and shop from hundreds of yard sales. Some people are regulars and others are people just cleaning out their houses. It sounds like a lot of fun!