This post brought to you by Revlon. All opinions are 100% mine.
When I was in high school and all my friends were experimenting with makeup and basically wore it every day. I was on the swim team and didn't have much interest in smeary racoon eyes every afternoon. So I basically wore it to prom. And that's it. Yep, I was that girl. Very all natural.
As I've gotten older I have enjoyed the look and feel of some makeup. Most of the time I only wear eye makeup and nail polish. Sometimes I even throw on the perfect shade of red lipstick. I generally don't wear anything on my skin other than sunscreen. Makeup typically feels heavy and weird on my cheeks. I don't know how to describe it other than it feels like my skin can't breath.
So, when Revlon sent me a fun new eye shadow and makeup primer as part of the Revlon Expression Experiment I was intrigued and cautiously hopeful that it wouldn't feel cakey. And it didn't! The primer felt just like a light, clean lotion. A light lotion that evened out my skin and made it look amazing without looking fake. What a lucky day.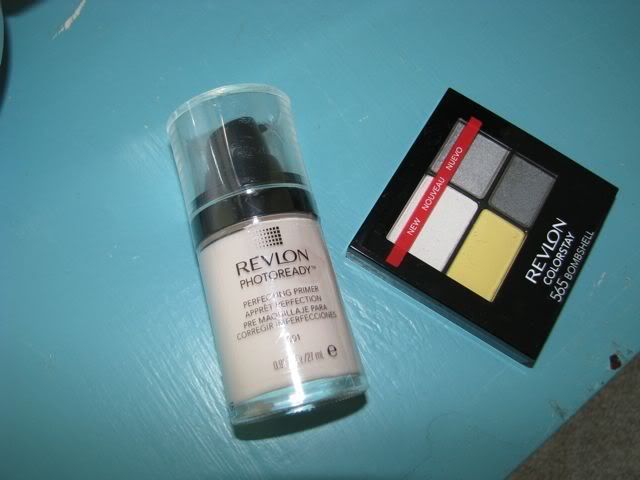 I love the way Revlon creates makeup that is so easy to use. The eye shadow set they sent me came with four eye shadows to use together to make a fabulous looking eye! And on the back they included instructions how to create something awesome. Thank goodness. I got a late start on the makeup gig and now that I have two kids I don't have as much time to experiment. Revlon made it easy.
They give all women the power to change their looks on a whim and I love that! I'm going to put more effort into trying new things with my makeup. I'm going to start using the Revlon Expression Experiment Facebook application. And you should too! I would love to see what you come up with. I can use all the help I can get!
Want to see a little before and after? Here's me without makeup:
*
And after:
Thanks Revlon for making my every day look more put together.